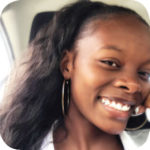 Couch Kitten: Wetumwene Shikage
In an address made last week Friday, President Hage Geingob, updated national measures to fight COVID-19. The actions he announced were to further maintain a delicate balance between our health and our socio-economic well-being.
During his address, he eased some restrictions and regulations which were earlier in place. One of the restrictions which were put in place included restaurants operating on take away basis only. He announced that restaurants could now operate for sit down meals. I could not be happier. I have been waiting for this ease ever since the restriction was put in place.
Restaurants could operate normally now. By adhering to the regulations and safety precautions: tables can be moved one meter apart to observe social distancing; customers signing a register to keep track of whoever has been at the premises in case of a positive infection occurring at that same premises; customers to wear their masks upon entry and surfaces can be disinfected after they leave. These regulations have been observed at local supermarkets and even clothing stores where people go and touch or feel items which they might not even buy. The rules and regulations can also be adhered to by restaurants. I feel these places are similar in the way they operate as they all have customers walking in and out.
Before restaurant restrictions were put in place, we could enjoy our orders on the premises. I have seen that many of us young people really take things seriously when we really want them. I want to dress up, take a few snaps for Instagram highlights and get the odd picture of my meal. "It's a vibe". Some could plan dates as restaurants are quite cool meeting places. Maybe you missed having sundowners, cocktails or just the ambiance to serve the excitement and mood when you see your order arriving. The excitement to re-opening the restaurants is different to all of us. If I really want that greasy plate of ribs and fries, you will not catch me with my mask slipping and my sanitizer is surely in my bag.
I do not know if you also noticed the difference between having a meal from a paper plate and from a ceramic plate. When I place an order at a restaurant and then leave with the food in a paper plate or carton I prefer to call it, something is just off. The fries get moist and they are not as crispy and they should be, the salads do not taste as fresh, the meat you ordered gets cold on the way home. When the food does not look so crisp and delicious, my appetite is less.
Going to the restaurant is not solely for the food or the drinks. Sometimes I just want the airy atmosphere to read a book, a place with some low jazz tunes while typing up an article, great views from the rooftop with a glass of juice or a simple stress reliever to calm you down from a long day at work.
I was never used to popping up at a restaurant just to order a take away. I mean who was ever used to doing that? As long as restaurants follow these rules and regulations, this can help to keep a safe and clean environment without a doubt. Putting all these measures in place gives assurance to customers that their health and safety is considered. The restaurant is where I want to be for my meal.